Benefits of Coconut and Argan Oil for Nails.
Nutritious oils come with a number of advantages for the body. They have numerous benefits locked within them that target different aspects of your existence. Certain oils are more specific, whereas others harbour diverse uses. Argan and coconut oil are some of those oils that have an elaborate array of uses for almost every aspect of the body.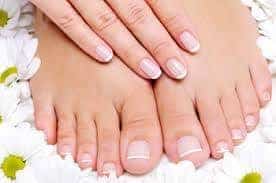 Whether it is hair, skin or nails, these oils serve to beautify and nourish them with an extraordinary grace. Here we describe the many benefits of these oils for your nails. You may be surprised by the sheer effectiveness they have for treating different nail conditions.
Coconut oil.
This oil has had a reputation for being a diverse, multi-purpose oil for your body. The oil showcases plenty of benefits for nails also. People have used the oil for beautifying their nails for ages. Here are some ways that coconut oil works to benefit your nails.
Makes nails stronger, the fatty acids in the oil sink into the very core of the nails for stimulating growth and making them strong. The brittle nails that you are so worried about can easily be treated. Thanks to the amazing properties of the oil, the nails are healthier, stiffer and more resistant to chipping.
Softens cuticle, coconut oil has hydrating and sealing properties that get absorbed into the cuticle skin and soften it up. It also prevents them from drying and peeling which can lead to painful sores. The cuticles can then be easily cut off and shaped, giving you beautiful nails.
Antifungal, nails are prone to skin infections by bacteria and fungus. It is common to have these infections, especially if your hands are soaked in a wet environment. The antifungal and antibacterial properties of coconut oil protect the nails against these infections. Hence, all those typical infections can be warded off effectively by applying coconut oil.
Nail growth, a great way to stimulate the growth of healthy nails is by massaging pure coconut oil onto the nails just before going to bed. The oil seeps into the cuticle and the nail bed, nourishing the stem cells with essential nutrients. This strengthens the cells and stimulates the nails to grow fast and healthy. Your dream of having pretty, long nails could actually come true.
Prevents hang nails, don't you just detest the little bits of skin left over after washing day or a really bad manicure? Well, these bits can get infected and result in sore nails that are really troublesome. Coconut oil helps protect your skin in the water and also prevents infection thanks to its anti fungal and antibacterial properties. This will help you avoid this painful trouble and prevent these hangnails in the future.
Prevents ridges, you may see narrow ridges all over your nails. These represent the normal ageing process of the nails. However, you can get rid of them to make your nails smooth again. All you need to do is massage some coconut oil onto your nails consistently. This will help flatten any overgrowth's to give you smooth, pretty nails.
Prevents athlete's foot, this is a common worm infestation of the foot. It commonly occurs in people who wear shoes for long hours and can be very painful. You can take some relief and even cure the condition by using warm coconut oil to massage your feet.
Argan oil.
Clearly, coconut oil carries numerous benefits for your nails. However, Argan oil is not far behind. It has an amazing nutritional profile that makes it an exceptionally beneficial for your nails. Try it out for curing a number of conditions associated with your nails. Here are some striking benefits of Argan oil:
Softens the cuticles, dry and brittle skin around the nails can be a bother, especially in dry and cold weather. Argan oil contains a number of nutritious fatty acids that help repair the skin. This makes the skin soft and supple, making your nails looking perfect.
Moisturize your nails and skin, often in dry weather, your nails and skin crack making them unsightly and really bothersome. This is because the cold weather drains all the moisture in the skin. Argan oil helps hydrate the nails and skin and also forms a protective covering to prevent further loss. This helps to prevent brittle nails in the cold.
Makes manicures easy, it can be difficult to push the cuticles up in a manicure. Cleaning them can be a tough task too. However, rubbing Argan oil on the nails and cuticles makes dissolves all the dirt and makes it much easier to remove. Plus, pushing back the cuticles is much easier when Argan oil has been applied to them.
Protects nails from toxic nail polishes and removers, nail polishes and removers can leave your nails extremely dry. Argan oil helps to cancel out those toxins and balance the pH. This preserves the health of the nails and keeps them strong and shiny.
Heals damaged nails, nail damage is common. However, Argan oil is loaded with vitamin E that gives it exceptional powers to heal the nails. The hydrating and protective effect only adds to the effect resulting in perfect nails that gleam from a distance.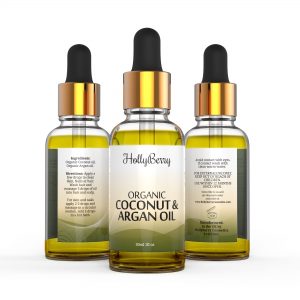 Clearly, Argan oil has a host of benefits for the nails. However, you need to make sure that these oils are pure. Impurities can not only interfere with the effectiveness of the oil, but can also have negative consequences of their own. This is why Holy Berry Cosmetics guarantees you nothing but the best. We offer you organic oils, as pure as can be.
Hollyberry Coconut & Argan oil. Check out the price here.
This gives you their maximum benefits so that you can enjoy their full power. All you have to do is place an order online at our store to receive your pure virgin oils at your doorstep. Try out these nutritious oils for yourself. They are sure to leave you amazed!