ORANGE PEEL FACE MASK AND ITS BENEFITS.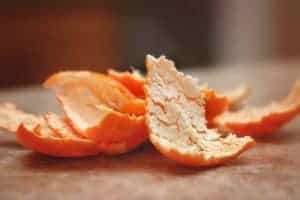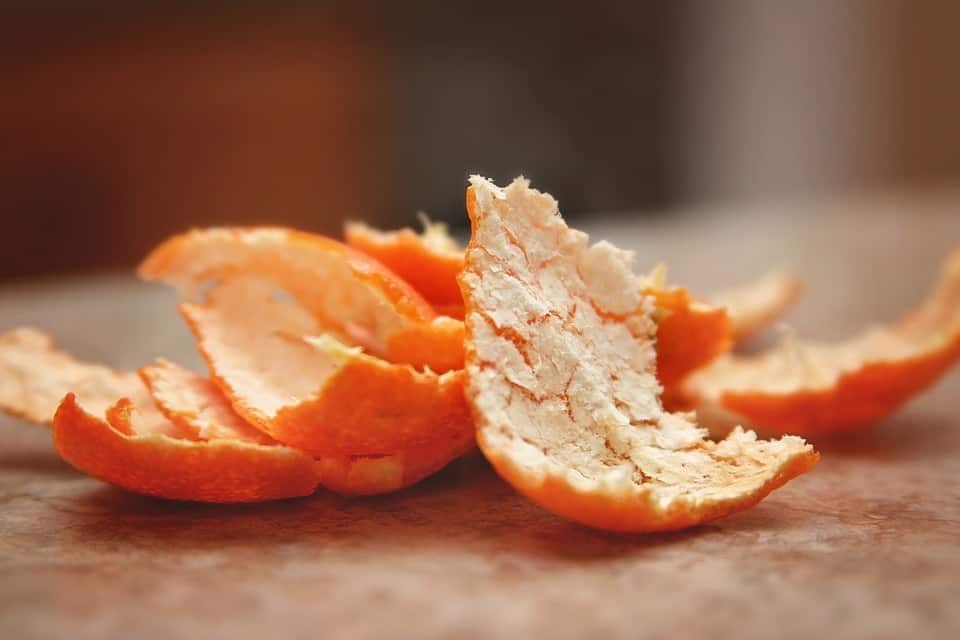 Throwing out the orange peel after eating or juicing it is common practice. But did you know that if you saved them, it could be the best beauty enhancer? Orange peels are powerhouses of nutrients and antioxidants and typically have a higher concentration of Vit C than its juicy inside!
Using orange peel on your face might seem ludicrous to you at first but it is an awesome way to restore your skin to its glowing best. It is extremely efficient in targeting tissues and can help with a multitude of beauty problems such as blackheads, acne, clogged pores, dull skin and excessive oiliness. And it is super easy to make one at home. But before you can go ahead and prepare a face pack for yourself, it is first important to learn how to make the orange peel powder.

To make the orange peel powder, first save up the orange peels from the ones you eat. Now, remove the white fribrous parts from the peel taking care not to break the peel itself and wash it properly in lukewarm distilled water.
Once done, spread the orange peels in a plate or a tray and leave them outside where they can get adequate sunshine. Leave them outside until they have all the moisture soaked out of them and they are thoroughly dried.
It usually takes a day or two to reach this stage for the peels but if the weather is cloudy then it might take longer. Also, it is best to cover the peels with a thin cloth when placing them outside to protect against dirt or insects. Once it is dried, crush the peels and blend it into a fine powder using a blender without adding any water.
If you don't have a blender, mortar can be used. Now, store your orange peel powder in an airtight container. You can use this powder to prepare the face mask recipes as described below. But first, let us take a look at what the orange face mask can do for us if we use it regularly as advised.
It can help treat acne spots and blemishes.
As described above, orange peel contains a rich amount of vitamin C which works wonders for acne spots and blemishes. It helps reduce their footprint and moisturizes your skin.
It even outs your skin tone.
Orange peel contains a high volume of citric acid that lightens dark spots, making your skin tone even. Using an orange peel mask twice every week can help you get supple, youthful and glowing skin.
It has anti-ageing properties.
Due to its citric nature, orange peel masks are excellent anti-ageing agents. They prevent wrinkles and fine lines on the face and revitalizes your skin to look glowing and radiant. It is an awesome solution to prevent ageing without breaking the bank.
It betters your skin quality.
Using orange peel masks regularly has proven to give users more supple and hydrated skin. The citric properties help moisturize the skin, repair any damage, better the texture and give you a healthy, supple skin.
Betters skin elasticity.
Due to the presence of antioxidants in the peel, the skin becomes supple and firm. Also, it helps in keeping the skin hydrated thus preventing premature sagging of the skin. Orange peels have also been found to boost collagen production in our body, thus improving skin elasticity.
Treats blackheads.
Orange peel mask contains active enzymes and free radicals that are super effective in combating blackheads. So, if you are struggling with blackheads or whiteheads and want them gone, orange peel masks are a wonderful solution that is inexpensive, uncomplicated and effective.
Helps shrink pore size in skin.
Orange peel masks, due to its astringent properties, shrink pore sizes in skin thus by limiting pore clogging, acne and blackheads. If you need to shrink your skin pores, orange peel masks are the perfect solution.
Treats oily skin.
Again due to its astringent properties, orange peel masks work magic treating excessive accumulation of oil in one's face. If that is the case with you, applying orange peel masks regularly can be very helpful. It is suited to all skin types although dry and oily skin types stand to benefit the most.
Helps rejuvenate your skin.
Orange has natural properties that help in replenishing and rejuvenating your skin. It looks younger, more hydrated and supple. It is best to apply the peel mask at least thrice a week to see results.
Gives you radiant skin.
Orange has natural antioxidants that clear out the toxins in your skin layer and evens out your skin tone, giving you glowing, radiant skin. Orange peels are a great way to apply orange extract regularly, although you can also use orange oil to achieve the same result.
Making orange peel face masks at home.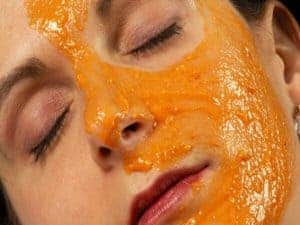 Most orange peel face mask recipes shared below require little ingredients or labor. Simply follow our guide to gift yourself whole new glowing, radiant, youthful skin.
Orange peel and yoghurt face pack.
This is a very simple recipe that puts you one step closer to the dream skin texture you always wanted. To make this face pack, take 1 tbsp of orange peel powder and mix it well with 2 tbsp. of yoghurt. Apply on your face and wash off with cold water after 20 minutes to get clearer, tight looking skin in minutes. This instantly rejuvenates your skin and is great if applied before a party or a big event.
Orange peel, turmeric and honey face wash.
Use this face wash if you have stubborn dark spots in your face that you haven't been able to treat naturally. To make this face wash, simply take 1tbsp of orange peel powder, 1 tbsp. of honey and just a pinch of powdered turmeric. Mix the ingredients into a fine paste and apply on your face. Rinse off after 10 minutes with rose water. It is better to not use this with skin that is acne prone but in case you do, follow up with applying an acne skin pack for added stability to your skin.
Orange peel powder, walnut powder and sandalwood paste exfoliator.
To make this exfoliator paste, take a tbsp. of orange powder in a bowl and add 1 tbsp. each of walnut powder and sandalwood powder to it. Add 2 tbsp. of rose water and a few drops of lemon juice to the mix and make it to a paste. Apply on the face and rinse off after 5 minutes with cold water to get instant glowing skin.
Orange peel and lime face pack.
This is a great solution to remove dark spots and brighten the skin. Take 2 tbsp. of orange peel powder, a few drops of lime and 1 tbsp. each of fuller's earth and sandalwood powder. Mix it into a smooth paste and apply on the face gently. Rinse off with cold water after 30 minutes to get fresh and bright looking skin immediately. This is a great face pack for those having oily acne prone skin. If you currently have acne, then the quantities of lemon juice and orange peel powder in the mixture should be doubled.
Acne care orange peel mask.
Orange peel is a powerhouse of nutrients that can help you fight the annoying pimples away! Applying a thick coat of this paste will deep cleanse your pores and drive out all the excessive dirt, grime and oil that are the biggest reasons for pimples, blackheads and acne. To make this mask, you would require 2 tbsp. of orange peel powder, 1 tsp. of oatmeal and 1 tsp. of baking soda. Mix all the ingredients in a bowl and gradually add water to form into a thick paste.
Massage a thick coat onto your face and let it sit for 15 minutes. Rinse with cold water and pat dry your face with a soft towel. You will immediately find your face more hydrated, soft and radiant. If your skin appears dry because of acne after applying the mask, you can use a drop of olive oil to act as a natural moisturizer.
Orange peel mask for oily prone skin.
If you have oily prone skin, this orange peel face mask can do wonders for you! It is a great solution that will not only rid your skin of excessive oils but also moisturize the skin and make it suppler. The face mask also uses coconut oil which is amazing at getting rid of bad acne-causing oils residing deep within your skin pores.
To make this paste, take 2 tsp. of orange peel powder and add 1 tsp of milk and coconut oil respectively. Mix well until a thick concentrated mixture is formed. Apply the mixture onto your face and let it sit for 15 minutes. Rinse your face thoroughly with cold water and pat dry. Your skin will have a wonderful radiance and feel silky soft.
Why go for homemade face masks than store bought ones.
Homemade face masks are way better than the ones available in stores because of a multitude of reasons. First and foremost, homemade masks are filled with nature's restorative goodness in the form of nutrients, minerals, good acids and oils. They are absolutely chemical free, something that is not the case with store bought ones. And since they are all natural, they have longer shelf life so it is inexpensive for you to take good care for your skin.
Store bought masks usually have 'fruit compounds' in their ingredients which basically means that they contain only a fraction of ingredients that are found in the fruit itself. However, making the masks at home, you can have all the AHA and other micronutrient goodness delivered directly onto your skin for nourishment and healing.
Homemade face masks cost less, have a longer shelf life, are more loaded on the natural goodness of nutrients and do not chemically damage your skin. You should always consider using homemade masks even if it takes a little bit of time and a little reading up to do.
Related questions.
Is orange peel good for your face?
Oranges have a high content of citric acid which aids in skin exfoliation and helps to dry out acne, improving the overall look of your skin. Orange peel has a higher content of Vitamin C than the orange itself, so grind orange peel and use as a body scrub in your daily beauty regime for a healthy looking glow.
Can we eat the orange peel powder?
Although orange peels are edible, they are not nearly as sweet or as juicy as the pulp. If you do eat the peel, you'll get a good amount of nutrients. Orange peel actually has more fiber than the fruit inside. It also has flavonoids in it that contain nutritious benefits for the body.