A significant number of people of all ages suffer from skin problems such as rashes, blemishes, blackheads and acne.
Commonly developing during puberty, acne usually occurs during a time of life when the individual is the most vulnerable and socially insecure. This makes acne not only a physical condition but sometimes an emotional and/or psychological one.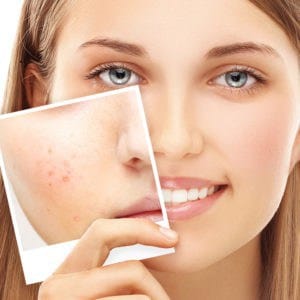 Acne can shatter an individual's confidence. Acne breakouts are the result of excessive secretions of oil from glands under the skin, leading to a buildup that blocks the ducts leading to the skin's surface.
Acne primarily affects the face, chest, back and upper arms. Some people continue to suffer from acne related skin infections for many years past their adolescence, although it usually diminishes during early adulthood. There is no definite way to determine when acne breakouts will stop.
Acne is frustrating for many people because it is unpredictable and sometimes seems out-ofcontrol. Breakouts have been attributed to several factors, including diet, heredity and genetics, vitamin deficiencies and stress. Since the exact causes acne are still unknown and there isn't any measure available to prevent it.
The best defense is a good acne skin care regimen which ameliorates and controls acne breakouts. For more severe types of acne, such as cystic acne, a dermatologist should be consulted since medical treatments are advisable to prevent or lessen scarring, but for milder forms of acne there are many options available.
Washing twice a day, using mild cleansers and gentle movements is the best acne skin care regimen.
Gentle cleansing removes excess oils, dirt, and pollutants which contribute to the development of blemishes. Strong detergents, harsh scrubbing, and harsh facial scrubbers irritate the skin and may contribute to inflammation and breakouts. Also, its best to avoid opening the blemishes since it may spread the infection over the skin.
Squeezing pimples may also cause them to burst under the skin infecting other skin pores as a result, dermatologists strongly advise against doing this. Shampooing regularly also helps to prevent acne by keeping the natural oils from hair off of the skin surface.
Toothpaste – For Minty Fresh Skin.
Video by Natural Health Remedies
Believe it or not, toothpaste can sometimes help clear up acne. While there have been no formal studies to date, many people swear by toothpaste as an effective acne home remedy. Simply apply directly to your problems spots before bedtime. Common wisdom holds that this will help control the swelling and redness. Just make certain you use actual toothpaste, not the gel stuff.
Salt and Vinegar – Pickle Those Zits.
A solution of salt water, with or without vinegar, can help clear up your acne both by drying your skin (removing excess oils) and by helping disinfect. Wash your face twice a day with a salt water (and vinegar if you like) solution. Just don't make the remedy too strong, mildly salty is best. For stubborn spots, make a stronger solution, apply to the swollen area, and leave on for 15-20 minutes.
Fruits – Healthy Inside and Out.
Fruits are also held to be an effective acne home remedy. Try applying strawberry leaves directly to the zit and leave the on for a while. Fresh lemon juice (not concentrated) or lime mixed with rose water is another acne home remedy you can try. Apply to your face and leave for 15 minutes. Try this one for 15 days and you just might be amazed at the results! Ground orange peel, mixed with water into a paste, can be effective in treating an outbreak.
Apply and leave for 15-20 minutes, then rinse the paste off with warm water. Papaya juice is also widely held to be effective. Fresh tomato paste can be used much like the orange peel paste as well.